January 2017 saw the Biggest Loser competition being fiercely battled at Capital for the third year running.  Kindly sponsored by Manish Patel at EXP International Systems Ltd.
Staff, Management and Directors competed against each other to lose the most amount of weight between 3rd January and 30th January.  On Monday 30th January Manish presented our biggest loser prize to  Sales Manager Shane O'Donovan who lost 11.26% of his body weight.  Following closely on his heels were Tom Arthur who came in at 9.96% and the winner of the last two years Graham Rees on 9.26% – between them losing 56llbs over the month.
Bets are on to see how much Shane puts back on enjoying his prize courtesy of EXP – a 2 night stay at the St Martins Lane Hotel, London – Champagne and dinner and drinks at Asia de Cuba .  Thank you Manish and EXP.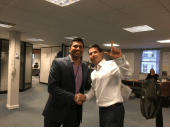 If you have any questions or would like further information
contact us on
+44 (0) 1444 235577
or email us