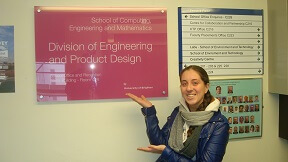 My interest in engineering was kindled during my high school years, where I studied building surveying in Italy. This introduced me to technical drawing and engineering concepts, and through this I became curious as to how things work.
Questions I wanted to understand the answer to:
How do aeroplanes fly?
What makes an engine work?
How do you build a bridge?
As soon as I finished High School, I decided to take a gap year with the idea of learning a new language. I travelled to London, found work and learnt to speak English, my aim by this time was also to study for a degree in engineering at an English University. I was so excited when I was offered a place at Brighton to study Aeronautical engineering. I see this as the starting point of my future as an engineer.
Engineering will give me a chance to have a career where I can play a part in influencing the future. Engineering is a universal skill which together with my language skills will give me opportunities throughout the World.
Elena Bigini
First Year Student studying Aeronautical Engineering
Brighton University
If you have any questions or would like further information contact us on
+44 (0) 1444 235577
or email us