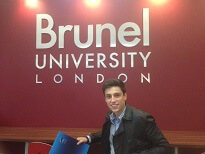 It started in my childhood with my interest in science and mechanical assemblies.  I used to invent different mechanical systems and then as I got older used my knowledge to maintain my endure-cross motorbike for racing.  This brought out the competitive side in me, which in turn has helped me with my tasks at University.
Whilst at school my favourite subject was Physics, this was due to the fact that physics has a strong relationship with the real world.  I was therefore driven towards engineering by the great feeling of accomplishing a project which can easily be implemented in the real world and improve the lives of people.
If you enjoy the applied sciences, I would recommend that you consider engineering.  I guarantee that if you take this path and work hard you will succeed in finding a fulfilling career in the broad range of opportunities available to you in the engineering family.
Andrei Popescu
Level III Mechanical Engineering with Automotive Design
Brunel University
If you have any questions or would like further information contact us on
+44 (0) 1444 235577
or email us